2021 & 2022: on hiatus due to virtual CCCCs
2020 Workshop: cancelled due to COVID-19
We had big plans for Milwaukee! Here is our accepted proposal for the conference:
This workshop brings attendees into the Milwaukee Public Library's Studio M makerspace to learn about the work librarians and patrons do together, and do some making of our own.
On July 21, 2018, Forbes magazine published an opinion piece by economist Panos Mourdoukoutas arguing that "Amazon Should Replace Local Libraries to Save Taxpayers Money." Pushback from the public — particularly public librarians — was so strong, swift, and well-grounded in economic and democratic realities that Forbes pulled the article down within two days. (It is, of course, archived online by the American Library Association.) The same day the article was deleted, Crystle Martin (2018) explained on the Young Adult Library Services Association's blog what Mourdoukoutas missed: that libraries play vital roles in "defending free speech, protecting the privacy of users, supporting lifelong learning, and creating an informed citizenry who can participate in the democratic process. But perhaps what is most disturbing about his suggestion is that he completely ignores the fact that there are millions of Americans living in poverty who cannot afford to purchase books and other materials, and who do not have access in their homes to current digital tools or high speed Internet." As part of our commons, libraries are vital to our collective life — important even for those who don't use them.
Since American communities began establishing and advocating for public libraries in the 18th century, we have understood them as more than repositories of books, and today public libraries are a common place for adult education, English language instruction, re-entry and job training programs for people newly out of prison, after-school and summer activities for children and teenagers, and year-round community events (Klinenberg 2018). Andrew Carnegie referred to libraries as "palaces for the people," an important part of what sociologist Eric Klineberg (2018) calls "social infrastructure," or "the physical places and organizations that shape the way people interact" and build social stability and resilience in communities (p. 5). It is no surprise, then, that public libraries and librarians have been at the forefront of what our group has been calling "handcrafted rhetorics," pursuing the democratic promises that the maker movement itself has frequently fallen short on (Sivek 2011; Morozov 2014; Willett 2016).
This half-day hands-on workshop proposes to bring attendees into the Milwaukee Public Library's Mitchell Street location, where its makerspace, Studio M, opened in 2017. Participants will learn about the work librarians and patrons do together, and do some making of our own. Having run workshops at CCCC in 2015 (Tampa) and 2017 (Portland) that brought local zine makers and DIYers to the conference, we moved our workshop out of the conference center in 2018 (Kansas City) and into Print League, a community print shop. Our 2019 (Pittsburgh) workshop partnered with the Pittsburgh Center for Creative Reuse (PCCR) and was held at Contemporary Craft. After successfully navigating the logistics of an off-site workshop for two years—and seeing how important the change of venue was for participants' experience of the workshop—we propose to again take participants into our host city to learn more about public library makerspaces as scenes of publicly-engaged rhetorical action. (Knowing that a community-engaged workshop like this may need to shift plans, however, we encourage workshop attendees to visit http://www.handcraftedrhetorics.org/ for the most current information about the location and plans for this workshop.)
Scholars and practitioners in Rhetoric & Composition have turned to the histories, theories, and practices of craft, DIY, multimodal rhetoric, cultural rhetorics, (post)process-oriented pedagogies, and makerspaces to reimagine composition classrooms and better understand public rhetorical action (Farmer 2013; Howard 2018; Koupf 2017; Melo 2016; Palmeri 2012; Prins 2012; Sheridan, Ridolfo, & Michel, 2012; Shipka 2011; Stenberg 2015; Wynn 2017). Librarians and scholars and practitioners of Rhetoric and Composition share a stake in developing information literacy as a value among our communities (Baer 2016), and both groups create space for and draw attention to practices at all points in the information lifecycle. As public and school library makerspaces become increasingly common, we as a field have much to learn from the librarians who structure productive making and learning spaces for patrons every day. By bringing people from these two sites of public education together, we will be well-positioned to reflect on our commonplaces about information literacy, multimodal composing, and maker education, such as that:
labor conditions, materiality, location, and personal relationships matter to rhetorical practice,
meaningful public rhetorical practice can be undertaken both inside and outside academia,
multimodal composing classrooms can — or should — be structured as makerspaces,
our work in the classroom should engage public rhetorics outside of it, or
archives and libraries can highlight essential relationships between invention, research and multimodal composing.
Schedule:
1:30pm – Meet at space, introductions, tour the library/makerspace
2:15pm – Making
3:45pm – Break
4-5:00pm – Discuss the issues outlined above, and how to take these conversations back to our institutions and communities
Our goals for this workshop include:
developing a better understanding of libraries and their relationship to multimodal composing,
articulating some of the ways in which libraries and makerspace practices might help us to rethink multimodal composing and public rhetorical practice in university classrooms,
exploring opportunities for educators, librarians, and makers to collaborate in supporting students and communities, and
fostering local, participatory maker activism and political dialogue through hands-on activities that engage Milwaukee's built environment and physical spaces.
2019 Workshop
1:30 – 5:00 p.m., Wednesday, 3/13, at Contemporary Craft
PROGRAM DESCRIPTION (p. 41)
HASHTAGS: #4C19 & #AW02
This year's workshop again ventured out into our host city! We were very proud to team up with Dr. Melissa Rogers, a local educator and artist who works with Pittsburgh arts organizations and nonprofits, and the Pittsburgh Center for Creative Reuse (PCCR) at Contemporary Craft, located about a mile from the conference enter:
The plan
This dynamic off-site experience began with reflective time to view the exhibit TRANSFORMATION 10, featuring art created from found materials. We then talked with Rodgers about her own work and PCCR's work while engaging with quirky recycled materials provided by PCCR to collaborate on an unbridled, multimodal, and public project addressing some of the inequalities perpetuated by the neoliberalization of the arts and humanities in Pittsburgh and beyond. In addition to conversation and the materials we worked with, our work was guided by this zine.
The making
Our finished products were compiled into a single piece, which was on display for the remainder of the conference.
The after-party
We continued the conversation afterward at our reserved table at Smallman Galley, one of two DIY food incubators in Pittsburgh. It was an excellent afternoon!
Co-facilitators:
Jason Luther (Rowan University)
Marilee Brooks-Gillies (IUPUI)
Sara Cooper (Murray State University)
Frank Farmer (University of Kansas)
Danielle Koupf (Wake Forest University)
Kristin Prins (Cal Poly Pomona)
Kristin Ravel (UW-Milwaukee)
Melissa Rogers (independent scholar)
Patrick Williams (Syracuse University)
2018 Workshop
PROGRAM DESCRIPTION
HASHTAGS: #4C18 & #AW10
This year Handcrafted Rhetorics is being held off-site as a Wednesday afternoon workshop (#AW.10). From 1:30-5 on Wednesday afternoon, March 14, we'll be at Print League, a community print shop located in the heart of Kansas City. Registrants can find out about Print League and their mission from their homepage, and even more from their original Kickstarter campaign from last year, which includes a wonderful video featuring co-founders Ani, Michelle, and Angie.
Because this workshop is a bit more expensive and involved than our original plan, we absolutely must thank CCCC, the University of Kansas English Department, and Print League for generously co-sponsoring this opportunity.
The plan
We are planning to start at Print League promptly at 1:30. Once all participants arrive, we will make some quick introductions, hear briefly about the history of letterpress and relief printing, and then get an opportunity to make a print. Here's how our hosts describe the workshop:
"This "block" printing workshop is designed to introduce folks to the wonders of relief printing by using a variety of Lego tile blocks to create a design. The act of setting the tile also mimics typesetting. So participants can get a feel for traditional letterpress as they create their image and print on our Vandercook press. Additional print techniques are explored through the use of texture printing, or "stamping", the oldest form of printmaking. Use texture to create a background for your Lego design or an added layer. Each participant will go home with an edition of prints, size: 12.5" x 12.5"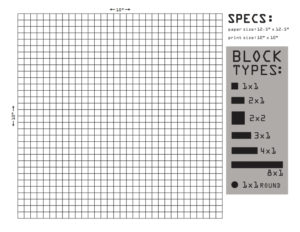 Lego template (click to make larger)
Because this particular workshop is designed for beginners, participants can count on a nice mix of demo time and work time, alternating periodically. That said, the "making" part of the workshop will fill most of the time. As such, we have arranged for a reservation at a local bar and grill,
Tower Tavern
(which has generously agreed to allow us to pay via separate checks), where we can talk pedagogy and share our perspectives and intersections on making and composition.
Getting there
Print League is located about 2.5 miles from the Kansas City Convention Center at
3121 Gillham Road
Kansas City, MO 64109
Buses are available near the KC Marriott on Wyandotte Between 11th and 12th and depart every 5-10 minutes; total travel time via bus to Print League will take anywhere from 20 to 35 minutes. This option also requires .4 miles of walking from the bus stop to Print League. Day passes are $3 and available locally from busses or through their mobile app.
Alternatively, rides via Lyft or Uber look to be about $10-15 and will take about 15 minutes; if you would like to travel together, please meet near the Conference Registration area in the Kansas City Marriott between 12:45-12:55 p.m. We will have signs that say "AW.10 Handcrafted Rhetorics."
Street parking is available if you plan to drive yourself.
While we realize that Print League is a community print shop and not a makerspace, we feel this provides a unique, hands-on opportunity to engage with some inspiring and dedicated critical makers, and a chance to imagine and think about handcrafted rhetorics at a community space in the heart of Kansas City. We hope you plan to join us for this fun afternoon!
Presenters
Marilee Brooks-Gillies
I define literacy and writing broadly and bring in material rhetorics to most of my teaching, whether or not I name it as such. In my classes, we talk about how writing is just one form of making and then consider how we make other things, which gets students thinking about the wide range of activities they are involved in and how literacies can be repurposed across contexts (Roozen). As a writing center director, I frequently talk with consultants at my Center and faculty on campus about how writing goes beyond alphabetic text. In the writing center education class, I ask students to remix their consulting philosophies into a new form. They've impressed me with songs, quilts, paintings, zines, and multimodal projects. We also talk about how making together is a way to build community. Just last week our staff meeting involved crafting art to hang on the walls of our writing center.
Kali Jo
Similar to Erica, my undergraduate experience was largely focused around studio art—although I ultimately ended up with a degree in journalism and graphic design. As a result, I often find myself blurring the lines with fine art and digital making, drawing on both to help my students broaden their own ideas of composition and literacy. In my instruction of introductory composition courses, I organize my classroom around a multimodal teaching philosophy, in which I incorporate activities, lessons, and assignments that embrace multiple modes and ways of making.
Danielle Koupf
I really enjoy experimenting in the classroom and want my students to do the same with their writing. Inspired by last year's workshop, I began incorporating a "making" activity into my first-year writing class about "Truth and Fiction." In response to the book Mr. Wilson's Cabinet of Wonders, students create a fake artifact, document, or photograph and write an accompanying persuasive and descriptive essay in which they attempt to persuade an audience of museum-goers that the artifact, document, or photograph is in fact real. This assignment engages students in hands-on composing activities involving both found and newly created materials, while also enhancing their skills in persuasion and description. I encourage them to have fun with the assignment and to embrace composition as more than just alphabetic or digital writing. I love this assignment because I never know what I will receive from students, and they grow excited about what they can find and/or make — I've received a turtle shell, a clay mug, a wooden chest, and Photoshopped photos, to name a few examples. I look forward to seeing what students produce in the next half of this semester!
Jason Luther
My adolescence was largely defined by do-it-yourself publishing and DIY hardcore, punk, and indie music and so I carry this experimental philosophy throughout my work. In terms of teaching, I try to align platforms and materials for learning and see what students bring to the table in terms of their own literacies, histories, and compositional goals. For example, I've taught two versions on DIY Publishing as a graduate student at Syracuse University — a course I will teach again at Rowan University next year — where students design public texts like zines, e-books, or build Kickstarters. As a first-year assistant professor, I am charged with teaching courses on technology and research; thus, I've asked my students to collaborate on two digital publications: one for undergraduates about digital culture, called The Future of Writing, and another, called The Phono Project, which invites students to write about a digitized phonograph recording in the public domain. Both are works in progress and informed by a larger sense that publications should be living, breathing assemblages that don't always have closure. I'm excited to see where it takes us.
Kristin Ravel
Crafting has always been a part of my life, and from an early age and found pleasure in taking objects that people thought were of no value (a rock, a stick, an empty cardboard box) and turn it into something meaningful. I also understand crafting as connected to the act of giving/gifting, and I see this extended into how I think about the writing in the classroom: whatever the materials we use—the alphabet and/or the colors, photographs, and arrangements of a webpage—I want students to see composing as a tool for refining and developing ideas and as a means to advocate for their communities and the issues they care about. I believe this process starts first with imagining what you are capable of giving, to whom, and through what materials?
Kristi Prins
Whether I'm teaching classes that obviously lend themselves to craft or DIY approaches to composing (like mulitmodal rhetorics) or those that don't (expository writing), I scaffold in activities or assignments that ask students to develop their thinking through not-just-textual means. These assignments and activities often follow Shipka (2011), in that students are required to select and justify the modes and materials in which they compose, and then to reflect on the benefits and limitations of those modes and materials in helping them to develop and communicate their ideas. Additionally, as our classroom setup allows, I also try to dedicate at least some serious class time to composing together — to creating a workshop or studio or makerspace atmosphere where students can work independently or collaboratively, and in which we can learn from each other's trials, errors, and successes.
Laura Romano
I have always been interested in individuals and groups that push back against the proliferation of digital technologies in our lives, and while makers can use digital mediums, there is often a non-digital, crafty element to "making" that intrigues me. This interest has led to opportunities to work with many individuals and families that have intentionally or unintentionally privileged and nurtured alternative community literacies, and makerspaces are sometimes examples of this. I recently taught a seminar course in which I used ethnographic observation and oral history methodologies to look at the ways some of these individuals privilege non-digital types of literacies within their like-minded peer groups. Some of these alternative literacies included non-digital made things such as handwritten music, recipe cards or quilts: made things that functioned as a thread that held the community together. This seminar project led me to wonder about the value of makerspaces as promoters of cultural identity, particularly in post industrial cities such as the one my university is located in, and I have recently been granted a fellowship in which I, and 15 students, will explore makerspaces around the country as places that nurture and promote cultural identity.
Erica Stone
Because my undergraduate degree is in studio art, I often find myself including maker-space techniques into my composition and technical writing classrooms. More than anything, I want my students to understand the composing process as something more than just words on a page. I design my classes to include multimodal maker projects, including photography and soundscapes, that challenge students' conception of "writing," audience, and the potential impact of our discipline.
---
2017 Workshop
9:00am – 12:30pm, Wednesday, 3/15, in Portland Ballroom 251
PROGRAM DESCRIPTION
HASHTAGS: #4C17 & #MW04
SCHEDULE:
9:00am – Opening remarks and introductions
9:15 – Maker's Faire
Found writing
Ledger art
Circuit bending
10:45 – Break
11:00 – Roundtable discussion on DIY circulation and curation, including archiving, preservation, and curation
Resource: zine librarian code of ethics
Audrey Eschright (open source advocate, and community organizer, and publisher of the feminist hacker zine The Recompiler)
Amelia Abreu (runs UX Night School, a free skool of sorts and a self-described systems geek)
Cathy Camper (zine librarian from PDX and all around mind-blowing writer/artist)
Frank Farmer (University of Kansas)
Kelly McElroy (Oregon State University)
Patrick Williams (Syracuse University)
Danielle Koupf (Wichita State University)
12:00pm – Pedagogy brainstorm & discussion
12:15 – Closing remarks and ideas for 4C18 in Kansas City
Optional afternoon site visit TBA
GOALS:
To promote DIY as a powerful and relevant mode of production for local publics like Portland,
To develop a faithfully complicated understanding of the affordances and limits of the rhetorical work of DIY,
To use DIY/craft for composition and composition pedagogy, and
To learn from DIYers and curators about circulating and preserving this work.
CO-CHAIRS:
Jason Luther (Syracuse University)
Frank Farmer (University of Kansas)
Marilee Brooks-Gillies (Indiana University–Purdue University, Indianapolis)
Steven Hammer (Saint Joseph's University)
Danielle Koupf (Wichita State University)
Kelly McElroy (Oregon State University)
Chelsea Murdock (University of Kansas, Lawrence)
Kristi Prins (Cal Poly Pomona)
Martha Webber (California State University, Fullerton)
Patrick Williams (Syracuse University)
---
2015 Workshop
9:00am – 12:30pm, Wednesday, 3/18, in Portland Ballroom 251
PROGRAM DESCRIPTION
HASHTAGS: #4C15 & #MW02
SCHEDULE:
10-11:45am — Maker's Faire (with coffee break)
Three half-hour sessions — pick tables you'd like to join for each session (links are to handout drafts):
11:45-12:30pm — Pedagogy discussion (45 min)
Small group discussion and brainstorming on this GoogleDoc
Full group sharing and discussion
GOALS:
To promote an awareness of DIY and its relevance to our changing understandings of what a text is, and to reveal why any new understanding of composition must acknowledge how making and writing are inseparably linked practices;
To show how DIY is both a critique of and an alternative to, received assumptions about what counts as legitimate publication;
To reveal why DIY production serves a democratic function — in our classrooms and in our communities.
CO-CHAIRS:
Frank Farmer (University of Kansas)
Jason Luther (Syracuse University)
Martha Webber (California State University Fullerton)
Chelsea Murdock (University of Kansas, Lawrence)
Kristi Prins (University of Wisconsin-Milwaukee)
Patrick Williams (Syracuse University)